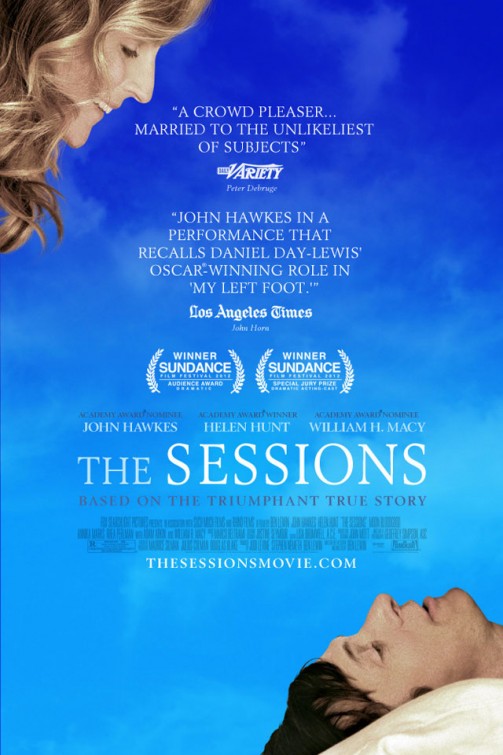 The Sessions
Written & Directed: Ben Lewin
Starring: John Hawkes, Helen Hunt, Moon Bloodgood & William H. Macy.
Oscar Nominations: 1
Best Supporting Actress (Helen Hunt)
Of all the one-nomination wonders this year, The Sessions might be my favorite (Mirror Mirror is a close second). Lewin's warmly funny film follows Mark a writer in an iron lung (Hawkes) who wishes to lose his virginity at the ripe age of 38. For this he hires sex-surrogate Cheryl (Hunt) who agrees to coach him for six sessions to achieve this feat despite Mark's physical impediments. While the subject matter (disabled man pays woman for sex) may sound unseemly, Lewin and his cast have crafted a smart comedy about sex and intimacy that while bordering on a romantic comedy, never loses sight of its unabashed sexual politics (the implicit love and affection that blossoms between Mark and Cheryl, and which begins to creep into Cheryl's own marriage is mostly glossed over despite its potential to sanitize the central plot of Mark's sexual fulfillment). The movie — while less of a PSA for disability sex than it sounds — breaks less ground than it would like to, but still manages to create in Mark a funny and smart writer whose disability is not solely what defines him nor what limits him. Not to be trite, but it is very refreshing to find a movie try to navigate these issues without being condescending to its subject, though most of that is thanks to Hawkes's nasal-voiced Mark who yearns for the touch of a woman.
The movie moves breezily through Cheryl and Mark's sessions from awkward first encounter ("Mark, I'm not a hooker") to the — yes, predictable but not for that less exciting — climax of Mark's first sexual encounter with penetration. For a movie that goes out of its way to put its actors in uncomfortable situations (Hunt is naked for most of her scenes; Hawkes is restricted to a bed for all of it), Hunt and Hawkes have created a wonderful pair and bring out honest performances as they tackle the high-wire act of making a movie about sex come off as a pleasant little comedy without losing the pathos inherent in that sexual journey. B+